Design of optocoupler circuit in switching power supply-1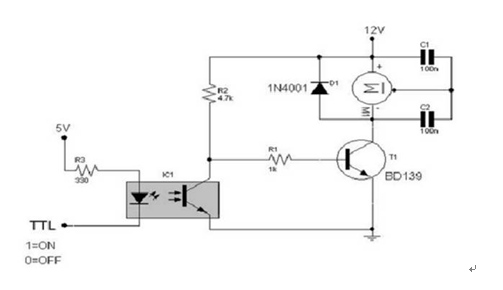 Optocoupler (opticalcoupler), also known as photoelectric isolator, optocoupler or optocoupler. It is a device used to transmit electrical signals as light medium. Usually the light emitter (infrared light emitting diode (LED)) is connected with the light receiving device (photosensitive semiconductor tube) in the same tube. When an electric signal is added to the input terminal, the light emitting diode emits light, and the photosensitive transistor generates light flow after receiving the light, and flows out from the output end so as to realize the electro - Optical - electric conversion. Typical application circuits are shown below in figure 1-1.
The main advantages are: optocoupler one-way transmission signal, input and output of the full realization of the front end and the load of electrical isolation completely, the output signal has no effect on the input, reduce the circuit interference, simple circuit design, stable operation, no contact, long service life, high transmission efficiency. The optical coupler is a new device developed in 70s, it has been widely used for electrical insulation, level conversion, coupling, drive circuit, switch circuit, chopper, multivibrator, signal isolation, isolation level, pulse amplifying circuit, digital instrument, remote signal transmission, pulse amplification, solid state relay (SSR), instrument, communication equipment and computer interface. In a single chip switching power supply, a linear optocoupler can be used to form an optical coupler feedback circuit, and the duty cycle is changed by adjusting the current at the control terminal to achieve the purpose of precise voltage regulation.
Please feel free to give your inquiry in the form below.
We will reply you in 24 hours.