FJ-DC1XXXL-A(2) / FJ-DC1XXXL-B(2) 15kw - 240kw Vertical DC advertising charging pile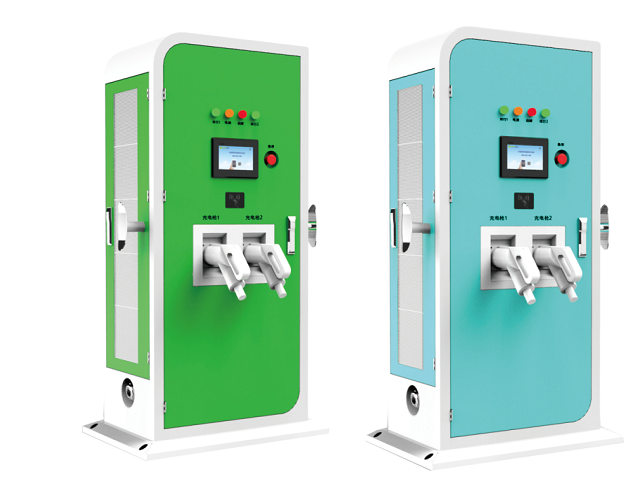 Features:
Body type DC charging pile appearance is simple and generous, easy to operate, can satisfy the user's fast speed charging, but also can bring additional advertising revenue for the operator, One-piece DC advertising pile has intelligent advertising push system, APP query, video monitoring, background remote guidance maintenance and control and other intelligent functions.
• Perfect safety protection function, with input side overpressure, underpressure protection, output domestic overpressure, overcurrent protection, insulation monitoring protection, overtemperature, short circuit, leakage of electricity, lightning protection, battery anti-coupling protection and other protection.

• It has three kinds of state instructions: power supply, charging, and failure. It is fully compatible with the new version of the national standard, has emergency shutdown, connection confirmation test, charging door test, charging gun lock, charging gun temperature test and other functions, and guarantees charging safety in all aspects.

• The charging operation methods are diverse. According to "automatic filling", "time mode", "amount mode", and "power mode", the electric car is charged in combination with the needs of BMS.

• It has the function of operating permission password management, supporting non-contact C card and mobile phone APP for identity authentication, charging control, payment settlement and other functions.
• Support cable(RS-232 / 435/CAN, Ethernet) and wireless(Bluetooth, GPRS, 3G, 4G, etc.) communication methods, can be centralized charging pile group management, system software with local and service upgrade functions.
• Payment method: Mobile APP payment, credit card payment, WeChat / Alipay payment, etc.
Applicable premises
DC advertising piles are suitable for urban special charging power stations(buses, taxis, official vehicles, sanitation vehicles, logistics vehicles, etc.), urban public charging power stations(private cars, commuter cars, bus cars), intercity expressway charging stations, and other situations where DC is required for rapid charging, It is particularly suitable for rapid deployment in limited locations.
Please feel free to give your inquiry in the form below.
We will reply you in 24 hours.