7kw/14kw Vertical advertising AC charging point2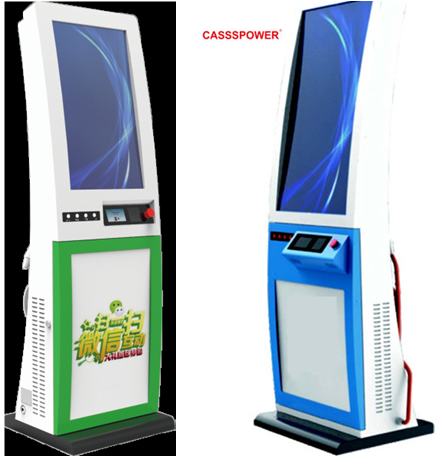 Features:
•Simple operation: swipe card direct start charging / cell phone scanning 2D code start charging.

•Charging function: automatic charging, quantitative, timing, pricing and charging multi-mode operation management of local self-settlement operations, platform operations.

•Backstage interfaces: WIF1 interface, CAN interface, RS485 interface, GPRS / 3G / 4G wireless interface.

•Payment method: Mobile APP payment, credit card payment, WeChat / Alipay payment, etc..

•Standard: Meet the new national standard.
Applicable premises
The AC advertising pile has a good advertising benefit and is suitable for private villas, residential areas, commercial office buildings, urban complexes and other parking lots or urban public filling stations(private cars, small-capacity passenger cars, etc.) and other places where the traffic volume is relatively large.
Part of the ad machine characteristics
•High definition: Supports full HD 1080 * 1920P video playback and 1ash animation playback, compatible with mainstream video formats.
•Complete features: free separation screen; Video, pictures, and text are played simultaneously; Turn it on and off regularly; Real-time intervention.

•Simple application: Plug-in is the application, according to the user's needs, can choose stand-alone, online version.

•Network function: network update distribution list, multiple terminal equipment network, controlled by the central server.
Operation and Management Cloud Platform
Using cloud computing, Internet of Things, car networking, big data and other related technologies, integrated smart parking lot management, electric buses, logistics vehicles, time-share leasing, network car and other vehicle operation management, Implement the intelligent scheduling of vehicles and parking spaces and charging piles to meet the operational requirements of billing and settlement management data acquisition and supervision security active warning mechanism energy dispatching and management requirements management management charging network interconnection operation PPP model Public and private cloud construction, joint operation, cloud transformation, etc..
Operation and Management Platform of Recharging Power Station
It provides a complete solution for the industry's leading charging network operation management, which can seamlessly connect with the parking lot management system, and interface with the operation vehicle management platform business such as electric buses, logistics vehicles, and time-sharing leases to realize the three-person operation management model of vehicles, piles, and positions., And it can interconnect with the operation and management platform of third-party charging network, realize cross-geographical and cross-network consistent charging for charging service operators, and provide a variety of service modes, including public cloud leasing, private cloud construction, joint operation, and cloud transformation.
Cloud Service Platform
The data cloud server of the energy management system provides cloud services for various terminal service applications and provides data query and monitoring services. Such as WEB data release, APP services, etc..
Please feel free to give your inquiry in the form below.
We will reply you in 24 hours.