12V5A 60W power module
Brand :
Cassspower
Product origin :
Shenzhen, China
Delivery time :
30 days
Supply capacity :
50K
12V5A 60W power module Feature:
·Wide range input from 90 to 264Vac.
·Power supply for Ohmic heating equipment design.
·Built-in EMI filter, low ripple and noise.
·Protections: Short circuit / Over current / Over voltage, it is reliability and stability.
·High efficiency is ≥87% .
·High power factor, small size, and full input voltage range with high efficiency.
·100% full load burn-in test.
· 2 years warranty.
Electrical Requirements
1.1

Input Requirements

Item

Project

Technical Specifications

1.1.1

Input Voltage

100~240

1.1.2

Input Voltage Range

90~264

1.1.3

AC Input Voltage Frequency

50~60

1.1.4

Inrush Starting Current

≤30

1.1.5

Max Input Current

1.2

1.1.6

Efficiency

≥85%

1.2

Output Requirements

Item

Project

Technical Specifications

1.2.1

Output Voltage

12

1.2.2

No-load output voltage variation△V

0.05

1.2.3

Output voltage Range

11.64~12.36V

1.2.4

Load Output Current

2.5

1.2.5

Output minimum current

0

1.2.6

Ripple & Noise

≤100

1.2.7

ON/OFF overshoot amplitude

±10%

1.2.8

Dynamic




Response

Overshoot amplitude

±5%

Recovery time

△t≤200

1.2.9

Load ADJ.Regulation

±5%

1.2.10

Start Time

≤3

1.2.11

Hold up Time

≥20

1.3

Protection

Item

Project

Technical Specifications

1.3.1

Over voltage

110% - 150% of the rated voltage, pressure limiting

1.3.2

Over load

Output flow point : 110% - 200% rated output current

1.3.3

Output overshoot

≤8.0A

1.3.4

Output short circuit

Automatic recovery,

The short circuit after 10 s release, the power can work normally
Isolation &Safety Requirements
Item

Project

Technical Specifications/

Testing Condition

2.1

Electrical strength

Input &Output

3000Vac/10mA/1min(No case)

Input&earth connection

1500Vac/10mA/1min

Output&earth connection

500Vac/5mA/1min




2.2

Insulation resistance

Input &Output

≥50MΩ@500Vdc

Output&earth connection

≥50MΩ@500Vdc

Input&earth connection

≥50MΩ@500Vdc




2.3

Constant damp heat insulation resistance

Input &Output

≥2MΩ@500Vdc

Output&earth connection

≥2MΩ@500Vdc

Input&earth connection

≥2MΩ@500Vdc

2.4

Safety approval




Approved by EN60950,GB4943 etc. Safety standards.
EMI/EMC Requirements
Item

Project

Technical Specifications/

Testing Condition

3.1

EMI

Conduction disturbance emission

CLASS A

Radiation disturbance emission

CLASS A

3.2

EMS

Electrostatic discharge immunity

Air discharge 15KV, Contact discharge 8KV, Criterion B(system)

Electric Fast Transient Burst Anti-interferen

Differential mode 1kV Common mode 2kV criterion:B(system)

Surge immunity

Differential mode 1kV Common mode 2kV

Voltage sag, short time interrupt and slowly varying immunity

Select by standard
*PS:Testing criterion is formulated according to the system requirements.
Environmental Requirements
Item

Project

Technical Specifications

4.1

Working TEMP.

-20℃-80℃




4.2

Storage TEMP.




4.3

Working Humidity

 20%~90%RH

4.4

Storage Humidity

10-95% (RH)

4.5

Altitude

≤2000

4.6

Cooling mode

Natural cold

4.7

Atmospheric pressure

70KPa~106Kpa

4.8

vibration

Samples is fixed on the vibration table according to the working position, under the condition of without electricity, respectively on three mutually perpendicular axis direction vibration according to the requirements.

(in accordance with GB/T 14714-93)



Environmental Test & Reliability Requirements
| | | |
| --- | --- | --- |
| Item | Project | Technical Specifications |
| 5.1 | High temperature working | +75℃ 8hrs |
| 5.2 | Low Temperature working | -40℃ 8hrs |
| 5.3 | High temperature storage | +85℃ 24hrs |
| 5.4 | Low temperature storage | -40℃ 24hrs |
| 5.5 | Steady-state damp heat test | 95% 24hrs |
| 5.6 | High-low temperature cycling test | -40℃~75℃~-40℃ |
Mechanical structure
| | | |
| --- | --- | --- |
| Item | Project | Technical Specifications |
| 6.1 | Dimension | 90* 45* 22 ±1 (L *W * H) |
| 6.2 | Package | Anti static bubble bag |
PCB Size: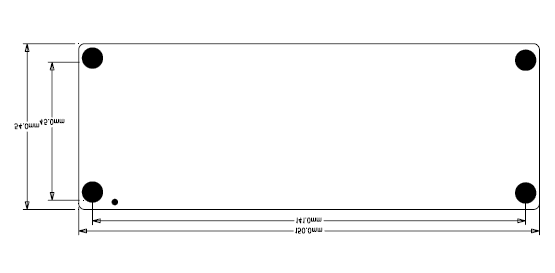 Open - package inspection:
Check whether the equipment is damaged in transit Keep packaging materials, until all the power equipment module unit has been registered and check.
Acceptable use police
1. When using, the power supply should maintain good ventilation, heat dissipation; Module units of air channels should not be blocked;
2. The power should be used in the environmental conditions specified in the specifications.
3. Shall not be arbitrarily adjust the power of the potentiometer;
4. Shall not be in a volatile gas or flammable environment;
5. In any case do not remove cover or touch the internal parts;
6. To be on the safe side, do not separate for internal warranty and parts replacement;
7. In the boot or in use process, found that smoke or unpleasant smell, should immediately turn off the power supply.
Security considerations:
1. Once the equipment safety protection were damaged, the equipment must be stop work maintenance and refer to relevant regulations.
2. When the power supply equipment from cold to warm environment, condensation may cause leakage risk problem, so the grounding requirements must be strictly enforced;
Must be by qualified personnel to connect the device to the power supply.
3. Cut off the power supply must be shut down for five minutes, the capacitor have sufficient discharge time, ability to maintain the power equipment.
4. Pay attention to the use of safe, there is safety warning marks, high pressure, avoid contact with the hand, lest cause an electric shock, burns.
Product warranty
warranty period:
This product warranty for one year. During the warranty period, any normal use conditions of natural damage, by the company responsible for free repair and maintenance;
But if you have any of the following circumstances, is out of place in the warranty:
(1) without going through the company's permission, without authorization for repair and the damage;
(2) any add or modify;
(3) the wrong operation or use;
(4) abnormal conditions, more than specifications, cause damage;
(5) for deliberate destruction;
(6) An irresistible and damage caused by natural disasters.
Scope of maintenance
If the power supply during the warranty period, due to the material and manufacturing technology on the error caused by abnormal operation, the company will provide free repair or replacement.
Maintenance services will include all kinds of labor service and any necessary adjustment or replacement parts, etc
Restrictions
1. If you are sending back to the product, not according to the same and packaging products are damaged in the transportation, is also not be warranty.
2. If belong to the following, the company shall be held liable responsibilities:
(1) for fires, earthquakes, riots, war, terrorist attack, the behavior of third party damage caused and other matters;
(2) the customer's intent or negligence, misuse, and other abnormal conditions of use and cause damage;
(3) for the role of the product or use the attached along with the gender damage [the interruption of business, business interests of the loss (including the use of the instrument's loss, change the cost of any equipment, device, or service, or your customers claim)];
(4) application for the use of the contents of this manual and the damage;
5. In any case, such as operation, cleaning or maintenance, be sure to comply with the requirements of the seventh paragraph of the safety regulations; If any violation, and cause beyond the original design, the manufacture of security concerns, the company will not be responsible for.
12V5A 60W power module Packaging and Transport :
Standard export carton. Each piece is packed by vacuum plastic bag into a inner box then 5pcs to a carton.
Delivery Detail: 5-15working days against payment.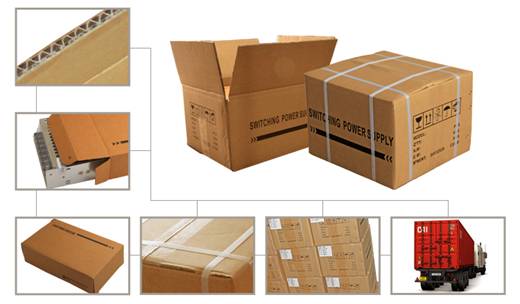 Our Services
1. Any inquiries will be replied within 24 hours;
2. Professional manufacturer , welcome to visit our website;
3. OEM/ODM available:
a) Print logo on our products
b) Customized specification
c) Customized color package box
d) Any your idea on our products,we can help you to design and put it into production
4. High qulity,fashion design,reasonable&competitive price,fast lead time
5. After-sale service:
a) All products will have been strictly quality checked in test house before packing
b) All products will be well packed before shipping
c) All products have 1-2 years warranty, and we sure the products will be free from maintenance within warranty period
6. Faster delivery:
Sample order in stock, and 3-7days for bulk production
7. Payment term:
L/C T/T open account transaction, westion union & paypal
Please feel free to give your inquiry in the form below. We will reply you in 24 hours.